My Mom's World Famous Chocolate Chip Cookie Recipe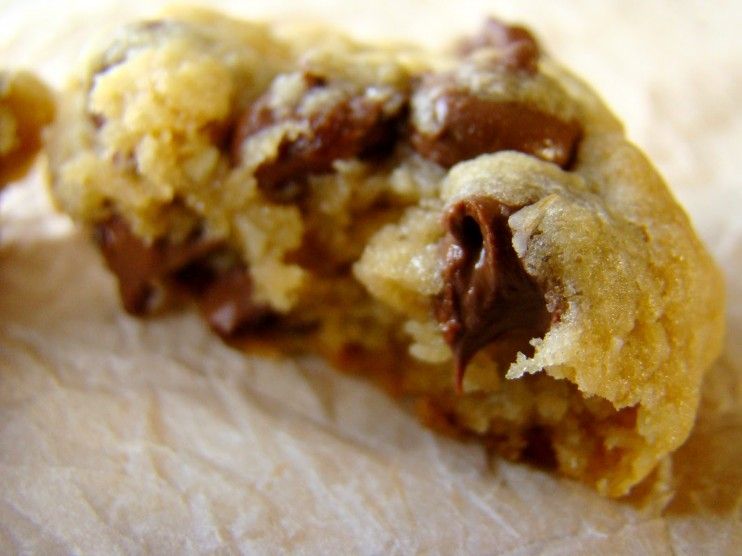 So it has come to be somewhat of a tradition that my mom has started.  It started off as a kid I would love Chocolate Chip Cookies from Double Tree Hotel in Phoenix next to her work. Well my Mom found this Chocolate Chip Cookie Recipe which she has been using since I was just a young lad.
When I went away to the Military at 18 she would send me care packages with the World Famous Chocolate Chip cookies. I kept requesting these care packages every time she visited or sent a package.  When I started working in Europe I would start bringing them into the office to share with my co-workers who all fell in love with them.  To this day I think my old co-workers miss my Moms Cookies more than me :)
Mom's World Famous Chocolate Chip Cookie Recipe
INGREDIENTS:
 1/2 cup quick cooking oats
 2 1/4 cups all-purpose flour
 1 1/2 teaspoons baking soda
 1 teaspoon salt
 1/4 teaspoon cinnamon
 1cup unsalted butter
 3/4 cup brown sugar
 3/4 cup white granulated sugar
 11/2 teaspoons vanilla extract
 1/2 teaspoon fresh lemon juice
 2 eggs
 3 cups semisweet premium chocolate chips
 (Ghirardelli or Guittard or equivalent preferred)
 1 1/2 cups chopped walnuts
DIRECTIONS:
 Preheat oven to 350 degrees
 Combine the oats, flour, soda,salt,and cinnamon.
 In a separate bowl,cream together
 The butters, both sugars, vanilla and lemon.
 Add eggs and mix until smooth.
 Stir in dry ingredients.  Mix in chocolate
 Chips and nuts.  Spoon rounded balls
 (about 1/4 cup each) onto a parchment
 Or foil-lined cookie sheet about two
 Inches apart.  Bake 10-12 minutes or until
 Light golden brown on outside edges but still soft in the middle.  Makes 40 large cookies.
Chill the dough for easier handling.
 The cookies freeze well.
Follow me
If you liked this article be sure to Follow Me on Twitter to stay updated!